Chickasaw
Other Names:
Date of Sinking: February 7, 1962
Rig/Type: Freighter, ex transport Thurston (AP-77)
Cause of Sinking: Stranding
Length: 439'
Breadth: 63.1'
Tons: 6,131
Cargo: Various commodities from Japan
Built: 1942
Location: South Point, Santa Rosa Island
Hull Construction: Steel
Depth: 20'
Visibility: 5-15'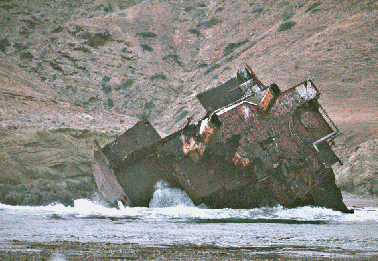 The Chickasaw was laid down on December 9, 1941 and completed April 4, 1942. Launched as the Del Santos, she was turned over to the War Shipping Administration and renamed the USS Thurston. After refitting, she made several Atlantic crossings carrying troops and later served in the South Pacific. At the end of the war, she returned to civilian duty as the general cargo carrier, Chickasaw.

On the evening of February 7, 1962, the Chickasaw was en route from Japan to Los Angeles with four passengers and 46 crew. The conditions at the time were poor with 8-10 seas, rain and fog. While attempting to pass through the narrow channel between Santa Rosa and San Miguel islands, she ran aground at 9:18 PM. Although it was initially believed she could be pulled off, the high seas forced her onto a rocky reef and it was nearly four days before a breeches bouy could be rigged to the shore so the passengers and crew could be saved.

There were no lives lost and some of the cargo was salvaged. Attempts at the pulling the wreck off the reef failed and all hopes of salvage were eventually given up. She slowly fell into the sea, piece by piece, over a span of four decades.

The wreck of the Chickasaw remained one of Southern California's most prominent wrecks as her large hulk stood fast for many years. However, the exposed site gradually wore down her hull and those that visited her periodically saw her swallowed up the ocean, piece by piece, as her hull disintegrated into the surf line. Today, nothing remains visible of the ship, except for her smoke stack that lies on the shore.

Given the unprotected location, sharp wreckage and high surf typically found on the site, few have ever ventured to dive the wreck.