Diosa Del Mar
Other Names: Unka, Bonnie Dune
Date of Sinking: July 30, 1990
Rig/Type: Yacht-Stay sail schooner
Cause of Sinking: Stranding
Length: 69' (90' LOA)
Breadth: Unknown
Tons:Unknown
Cargo: None
Built: 1898, Brownesville Shipyard, L.I.N.
Location: Ship Rock, Catalina Island
Hull Construction: Wood
Depth: 15-25'
Visibility: 15-50+'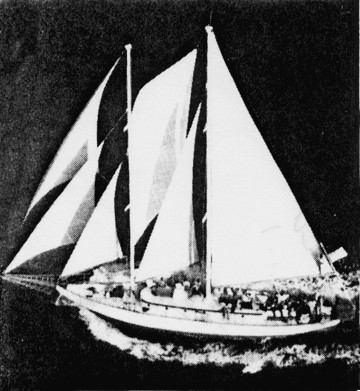 The Diosa Del Mar was originally launched as a stay-sail schooner for the Vanderbilt family back in 1898. Named Unka after the last Mohak-Chief, she was later named the Bonnie Dune and rerigged with a gaff and center board. In 1925, she was again modified with the addition of a full keel and 471 GM diesel.
Despite her age, speed did not elude her--as late as 1979, she earned the Serena Cup for the first schooner to finish in the Newport to Ensenada Race. The same year, she sailed from Los Angeles to Hilo, Hawaii and was chartered between the Hawaiian Islands for the next two years, returning to Los Angeles in 1982. In 1983, she took second place in the Newport-Ensenada race. On July 30, 1990, she struck Ship Rock at 2:25 and eventually broke up.
Diving the Diosa Del Mar.
The pictures below were taken several months after the wreck on a Fall day with optimal conditions. For a short time, the Diosa Del Mar was the most picturesque wreck in California--a 19th century wood schooner wrecked in 15-25' feet of clear Catalina water. In the clear shallow water she appeared to be more of a Disneyland attraction than a casualty. However, the sea quickly absorbed her wreckage and today, little can be found of the wreck.
The Diosa's deck, including a hatch.
A diver moves in close under her hull
A diver and garibaldi swim along the wreck's timbers
The same diver inspects a piece of the wreck.
The Diosa's rudder
A diver inspects the mast and its fittings.