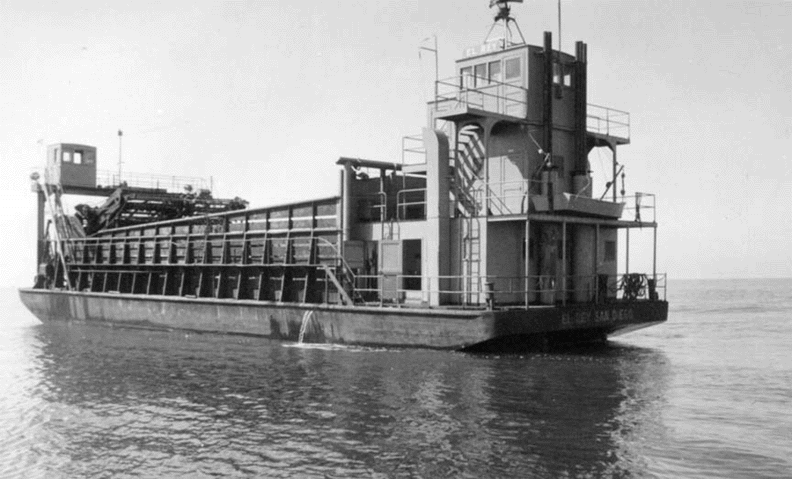 History of the El Rey
As one of Kelco's several kelp cutters, the El Rey harvested three feet of the kelp canopy from Point Conception to Mexico. The design of this unusual vessel gave it an interesting appearance. The El Rey's harvesting blades and kelp transport mechanism were mounted on the bow, topped off with a small booth for the operator atop of the transport arm. The superstructure was located on the stern and housed the crew, the engine room and provided storage. The pilothouse occupied the top portion of the superstructure and was accessible through catwalks on either side. he pilothouse's location facilitated the carrying of some 300 tons of kelp amidships. six ballast tanks were used to keep the El Rey trimmed.
During her 35-year career, the El Rey spent so much time at sea that she was also used to study marine life, assist other vessels in need, and occasionally recover bodies. some 3600 voyages and traveling more than 810,000 miles, the aging vessel was retired in 1981 and destined for the scrap yard.
The El Rey was saved from the scrapping when the San Diego Council of Diving Instructors and The California Department of Fish and Game developed an artificial reef program. Kelco donated the retired ship, providing it be made "diver safe" and "cleaned" to prevent environmental contamination. fuel lines, engines, machinery, and oil were removed, several large holes were cut in the deck to allow easy entry and exit for divers.
In April 2, 1987, the El Rey was towed to the mission beach. Before a large crowd, a U.S. Navy Demolition Team attached explosives to her hull and with great fanfare detonated them. The El Rey quickly and quietly slid below the surface and began her new life as an artificial reef.
Diving the El Rey
After sinking, San Diego's newest wreck came to rest upright on the bottom. The kelp cutting mechanism and the rudders were pushed deeply into the sand. he years, heavy swells and currents have taken their toll and many areas of the superstructure and hull have collapsed. A few areas of the wreck can be penetrated, but the wooden superstructure has badly deteriorated. However, the wreck provides a great opportunity for photographers as there is an abundance of marine life swimming around and living inside the wreck. Visibility is best in the morning, before the afternoon winds and currents stir up the silt in water and reduce visibility. A yellow Fish and Game buoy usually marks the site, however, it lies in a high traffic area and it is suggested that ascents and descents be made via anchor chain or buoy line.
Under average conditions, the dive may be classified as an intermediate dive. However, low visibility, currents, and surge may turn the wreck into an advanced dive.