Georgia
Other Names: Mistakenly identified as the Retriever
Date of Sinking: February 22, 1966
Rig/Type: Fishing barge
Cause of Sinking: Intentional (disposal)
Length:
Breadth:
Tons: 96
Cargo: None
Built: 1902 Tacoma, Washington
Location: South Redondo Beach
Hull Construction: Wood
Depth: 135'
Visibility: 15-30'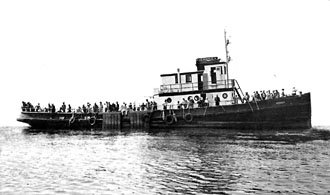 A number of fishermen crowd the gunwales of the Georgia.
This wreck was discovered in 1984 by a group of divers out of King Harbor and tentatively identified as the former fishing barge Retreiver. It was the subject of an article in Skin Diver Magazine in April 1988. The wreck is also described as the Retreiver in the popular book, Shipwrecks of Southern California by Smith and Cardone. Pictures of the Retreiver were not readily available until recently, when one was obtained from author Ed Ries. After studying this vessel and a picture of the vessel Georgia, which was also used as a fishing barge prior to sinking in the same area, a positive identification was made. Further confirmation was made by Capt. Jack Baker who operated the Georgia and sunk her.
The Georgia began her life in 1902, serving the Alaskan salmon industry from 1904 to 1924. In 1929, she was converted to a tug and by 1948, she was again converted to a fishing barge. At first, she served the McCullah Bros off Newport Beach, she was later sold to Gordon McRrae and moored off Redondo Beach.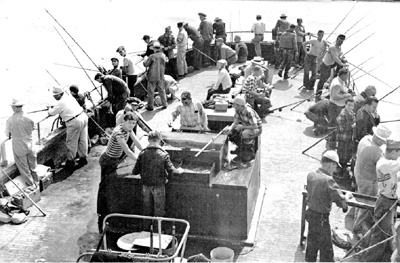 The stern of the Georgia.
While spending the winter of 1966 in King Harbor, she was found to be taking on water from some unknown source. Fearing that she might sink inside the harbor and require raising at great expense, Capt. Jack Baker, manager of Redondo Beach Sportfishing, immediately towed the Georgia out to the south side of canyon, where after three hours, she finally sank.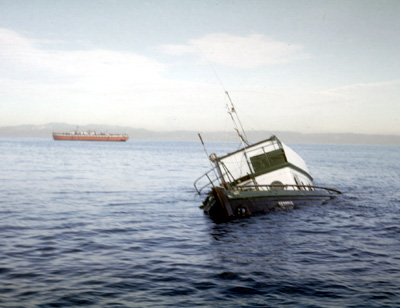 The Georgia about to make her final plunge. The fishing barge C-Coaster lays in the background.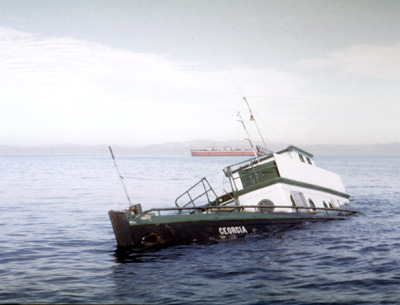 Going, going...
The vessel's wood hull has largely disintegrated, leaving the ribs exposed, along with several large fuel tanks and miscellaneous equipment. The propeller was reportedly salvaged, and a total of 12 large portholes have been recovered from this wreck. The anchor, chain, and several large bollards are evident at the bow. Lying at the edge of the outer Redondo Canyon, depths on the wreck range from 125 to 140 feet.