Koka
Other Names: Oconee, Tioga
Date of Sinking: December. 7, 1937
Rig/Type: Tug (Ocean Going)
Cause of Sinking: Stranded
Length: 157 feet
Breadth: 30 feet
Tons: 1000
Cargo: None
Built: 7/11/19 Puget Sound
Location: Northwest Harbor, SanClemente Island
Hull Construction: Steel
Depth: 10-25'
Visibility: 30'+
Koka Underway

If you're expecting a dramatic, photogenic structures, a dive on the USS Koka will be disappointing. Wrecked over 60 years ago in shallow water and pounded by waves and surge ever since, what is left of her is covered with seaweed and blends in with the seascape. Once you become accustomed to the scene, however, you begin to notice shapes not usually found in nature.

Built in 1919 at the Puget Sound Navy Yard. the Koka was a 157 foot long steel hulled vessel with a 30 foot beam. She displaced 1,000 tons and carried 46 crewmembers. For 18 years she was stationed in San Diego and sailed throughout California waters towing targets and performing the other duties expected of a Navy tugboat. Her military career ended on a foggy December morning in 1937 when she ran aground on east paint of Northwest Harbor, San Clemente Island. She was decommissioned that same day and as much equipment was removed from her as possible. Then she was declared unsalvageable and left half submerged on the rocky point.

In 1962, divers discovered the wreckage but the vessel's identity was unknown. Pete Greenwood salvaged its huge propeller, blade by blade. (Each of these is eight feet tall.) The name of the company that built the prop was engraved on it as well as its weight (1,915 pounds), year manufactured (1885) and serial number. Greenwood wrote to the American Ship Building Company in Ohio asking the identity of the ship whose prop he now had. The company told him it had been used on a vessel known as the Tioga that sailed between Buffalo and Chicago. Doing further research on the Tioga, California Wreck Diver Pat Smith discovered it had been lost in Lake Superior in 1919. The Koka identity was finally proven beyond doubt when Steve Giles, also a California Wreck Diver, found a brass bearing block with the tugboats name on it. Smith found the brass Station Watch Bill which also had USS Koka and the names of the various crewmembers and their stations engraved on it. The Tioga's prop had been salvaged and sold to the Puget Sound Navy Yard where it ended up on the Koka.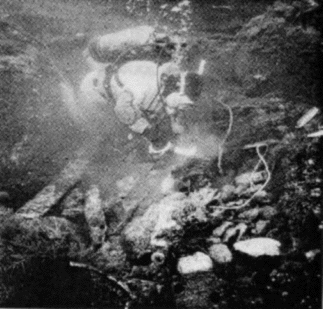 Diver among the wreckage.
Since it is in the protected lee of Northwest Harbor, the Koka is usually divable. She is in shallow water (at the deepest. about 25 feet) and there is always surge. The wreckage is hard to distinguish from the rocky, seaweed covered terrain.
A misfortune for the Navy, the USS Koka provides good fortune for divers.
From San Clemente Island's U.S.S. KOKA by Bonnie J. Cardon and Steve Giles
Sources of information: Museum of the Great Lakes Historical Society, Mariner's Museum, Newport News, Virginia.