Yankee Blade
Other Names:
Date of Sinking: October 1, 1854.
Rig/Type: Side Wheel Steamer
Cause of Sinking: Stranding
Length: 274' 4"'
Breadth: 37' 5"
Tons: 1,767 tons
Cargo: Passengers, gold
Built: 1853 in New York
Location: Honda Point
Hull Construction: Wood 3 decks, 3 mast, round stern.
Depth: 75'
Visibility: 5-15'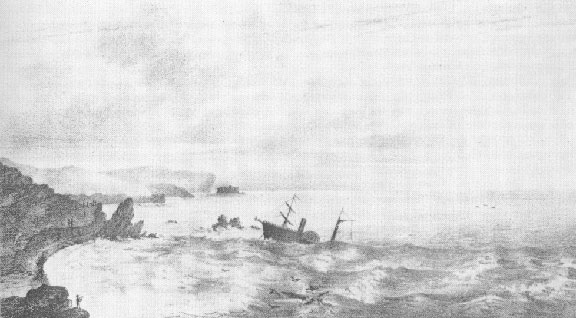 The Yankee Blade spent a short time on the East Coast and was soon purchased by Cornelius Vanderbilt and sent around the Horn for service in the Pacific. Under command of Capt. Henry Randall, she departed from San Francisco en route to Panama on September 30 and struck a rock off Point Pedernales (West of Lompoc, California) on October 1, 1854. There were 812 passengers and 122 crew on board at the time of her loss. A great deal of plunder and other unscrupulous activities occurred soon after the ship wrecked.
When she sank, she was carrying $153,000 in gold specie, plus unknown amounts of passenger gold. Most of the gold specie was salvaged in the months that followed her wreck, but modern salvage has recovered several items. In 1923, seven destroyers wrecked a few hundred feet from the Blade and were salvaged and/or demolished. Even at that time the site of the Blade was known and it was speculated that the Blade may have been salvaged at that time. Back in the 1950s and possibly 60s, the destroyers were salvaged for their brass and a number of items from the Blade were retrieved, including the ship's bell. However, there is no mention of any gold being found. Today, the wreck is on the National Register of Historic places.
The wreck lies off South Vandenburg Air Force Base and security prohibits entry from shore. The nearest harbor is Santa Barbara, over 30 miles away. To compound the problem of accessing the site, the area is known for its hazardous seas as heavy surf prevails, prohibiting diving most of the year. Despite the rough conditions, some large pieces of the engines and machinery remain on the site.